CAT Coaching in Rohini Delhi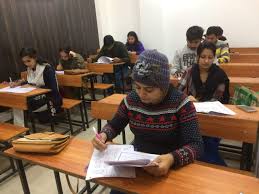 CAT Coaching in Rohini Delhi-
The Common Admission Test (CAT) is an exam conducted every year by the Indian Institutes of Management (IIMS). The exam is used to select students to join business administration programs. It is a computer-based exam that is used for the entrance of IIMS and other top B management institutes in India.  Some of them include Institute of Management Technology (IMT), Faculty of Management Studies (FMS), Management Development Institute (Gurgaon), National Institute of Industrial Technology (NITIE), and S.P Jain Institute of Management Research (SPJIMR) among other Institutes. Though the exam is computer-based, it is not internet-based or done online. Instead of the student of the questions being on a paper booklet, the candidate reads the questions from the computer and then clicks on the right answer.  The computer also tells on the duration of time. So, as a student, you get to know the time you are taking for a question and the time remaining before the end of the test. CAT aims at checking verbal ability, quantitative aptitude, data interpretation, and logical reasoning.
Exam Pattern
The total questions are out of 100. The CAT is divided into three sections. The total for each question depends on if they are questions with negative marking (MCQS), the total is 72, the questions without negative marking (Non-MCQS) which is 28.
The CAT pattern has changed over the past years and can be unpredictable. The exam pattern for 2018 is divided into three categories:
| | | | | |
| --- | --- | --- | --- | --- |
| SECTION | MCQS | Non- MCQS | DURATION | TOTAL MARKS |
| Quantitative ( Quant) | 24 | 10 | 60 Min | 102 |
| Verbal Ability & reading comprehension (VARC) | 24 | 10 | 60 Min | 102 |
| Data Interpretation & Logical reasoning (DILR) | 22 | 08 | 60 Min | 96 |
| TOTAL | 72 | 28 | 180 Min | 300 |
Section 1 – Quant
Total Questions – 34
MCQS – 24
Non – MCQS – 10
Level of Difficulty – Moderate to difficult
Section – Highlights
Section 2 – VACR
Total questions – 34
MCQS – 24
Non-MCQS -10
Reading comprehension passages – 5
Reading comprehension based questions (MCQS) – 24
Verbal Ability questions (MCQS & Non-MCQS mix) – 10
Level of Difficulty – Moderate to very difficult
Sections – Highlights
Section 3 – DILR
Total questions – 30
MCQS – 22
Non-MCQS – 08
Data Interpretation questions – 15
Logical reasoning questions – 15
Level of Difficulty – Moderate to difficult
Questions are in a set of four
Key Facts of CAT exam pattern
The exam takes 3 hours
The 3 sections take 60 minutes each
There will be sub-sections in each section
Candidates cannot move to the other sections within the hour administered for each section
Candidates will need to answer one correct answer out of four choices
The correct answers in the CAT exam pattern will be awarded 3 marks. Be it MCQS or Non-MCQS.
The wrong answers on Non-MCQS will not be given a penalty
Eligibility Criteria:
The candidates applying for a CAT need to have a Bachelors Degree from a recognized university graduated with at least 50% marks. For Scheduled Caste (SC), Scheduled Tribe (ST), and candidates with a disability, the mark is 45%.
Candidates appearing in the final year of graduation should produce an original certificate from the registrar, principal or the Director of the University.
There is no age limit for taking CAT.
Equivalent educational qualifications
Bachelor's degree in Engineering/Technology or equivalent Bachelor's Degree.
Any qualifications recognized by the Association of Indian Universities equivalent to a Bachelor's Degree awarded form a recognized university.
SYLLABUS
Quantitative section
Geometry
Trigonometry
Ratios and Proportion
Algebra
Profit & loss
Averages
Time-speed
Inequalities
Geometric progression
Number system
Averages
Work and time
Verbal section
Fill in the blanks
Grammar
Reading comprehension
Antonyms
Idioms
Sentence completion
Analogies
Different usage of the same word
Foreign words used in English
Para jumbles
Sentence correction
Verbal reasoning
Jumbled paragraphs
Contextual usage
Verbal logic
Analytical reasoning section
Blood relations
Direction Sense
Proposition
Assumptions
Statements
Syllogism
Data structures
Coding and decoding
Sets
Binary logic
Data interpretation section
Tables
Bars
Pie charts
Line graphs
Data sufficiency
Caselets
Course Syllabus
Geometry
Trigonometry
Ratios and Proportion
Algebra
Profit & loss
Averages
Time-speed
Inequalities
Geometric progression
Number system
Averages
Work and time

Fill in the blanks
Grammar
Reading comprehension
Antonyms
Idioms
Sentence completion
Analogies
Different usage of the same word
Foreign words used in English
Para jumbles
Sentence correction
Verbal reasoning
Jumbled paragraphs
Contextual usage
Verbal logic

Analytical Reasoning Section

Blood relations
Direction Sense
Proposition
Assumptions
Statements
Syllogism
Data structures
Coding and decoding
Sets\
Binary logic

Data Interpretation Section

Tables
Bars
Pie charts
Line graphs
Data sufficiency
Caselets